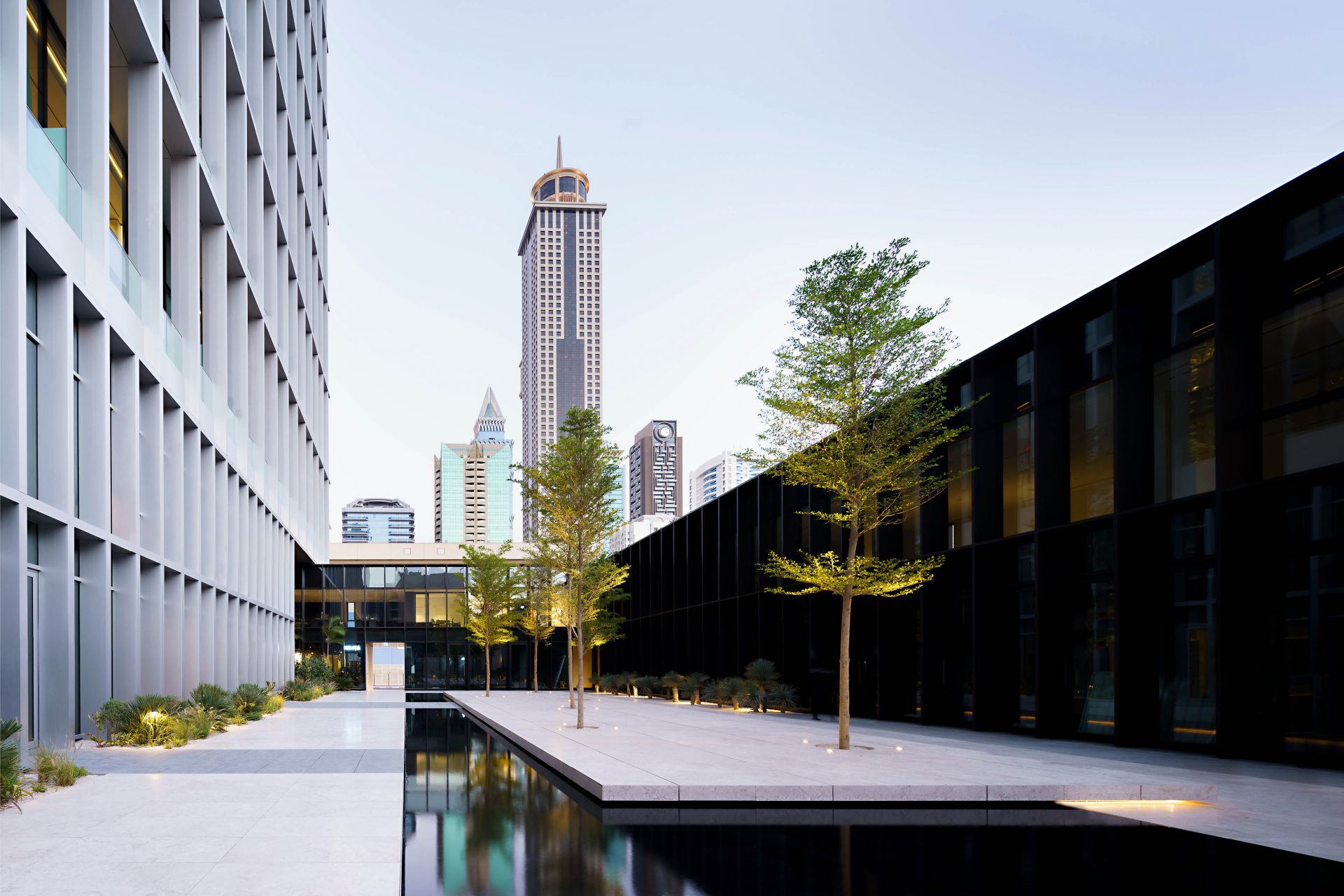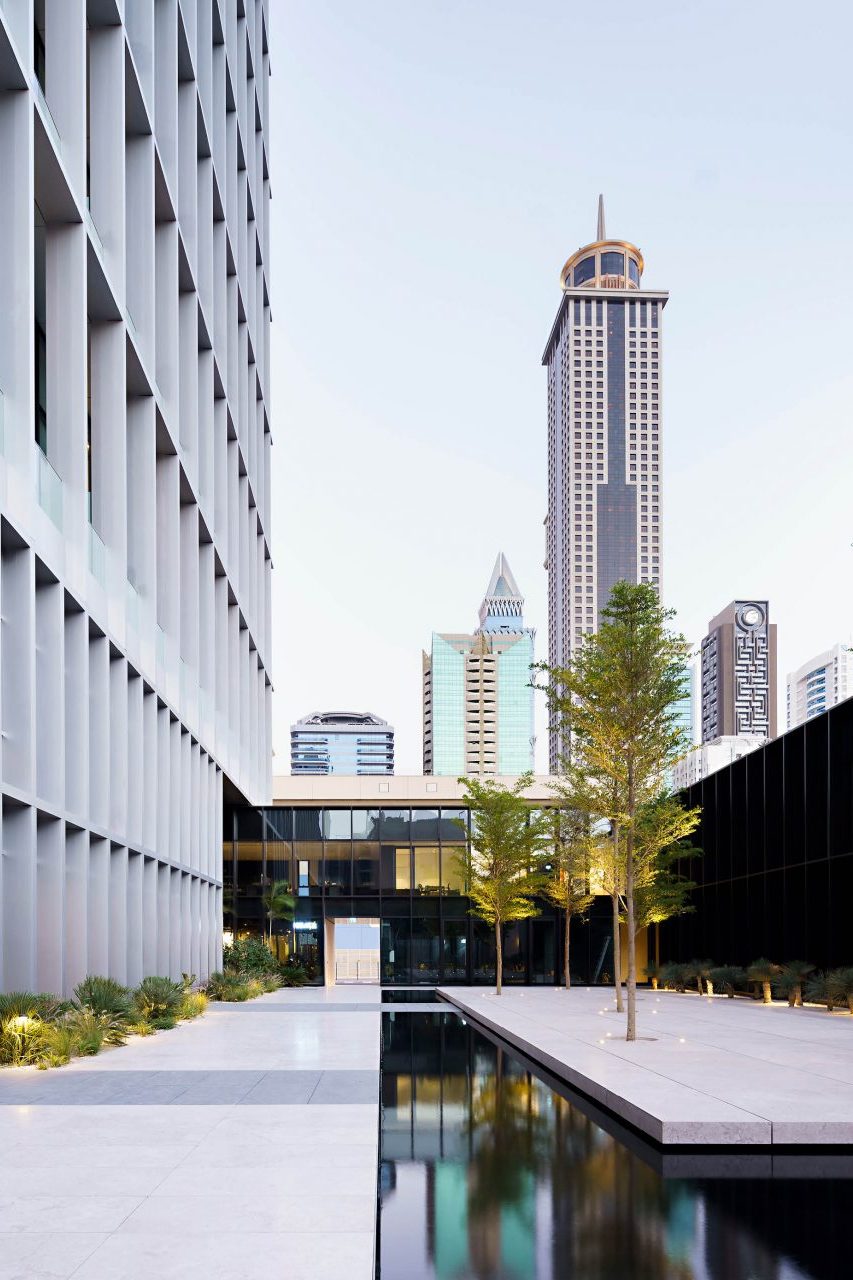 A Desert Refuge
Bright Start Headquarters
Bright Start Headquarters is a luxury mixed use high-rise in Dubai. Located in the Trade Center quarter, the project is situated 2 blocks from main commercial corridor, Sheikh Zayed Road (SZR). The Bright Start HQ encourages people on foot to take a break from the frenetic city life of the SZR and relax in the public space and retail shops at ground level of the Bright Start Building. The private landscape spaces above provide a similar refuge for the residents of the tower.
Residential spaces concentrate in the slender multistory tower with commercial spaces occupying much of the ring-like base. The occupiable landscape space of the project includes two large courtyards that inhabit interstitial spaces at the base of the tower along with two pools anchoring an amenity deck on the roof.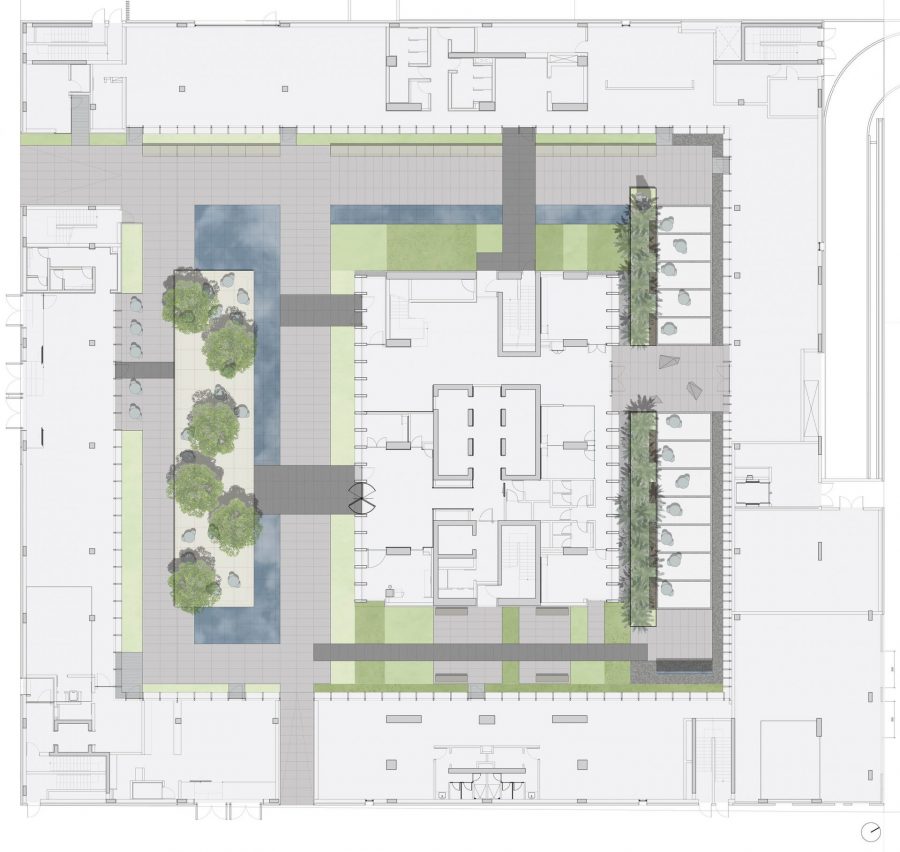 Rendered plan (Ground Level)
Rendered plan (Ground Level)
This on-structure site design utilizes clean flush transitions between materials creating subtle shifts in the ground plane through banding and texture, establishing rhythm through movement. Long benches in the courtyards inform the proportion of the Corten treads and stone pavers.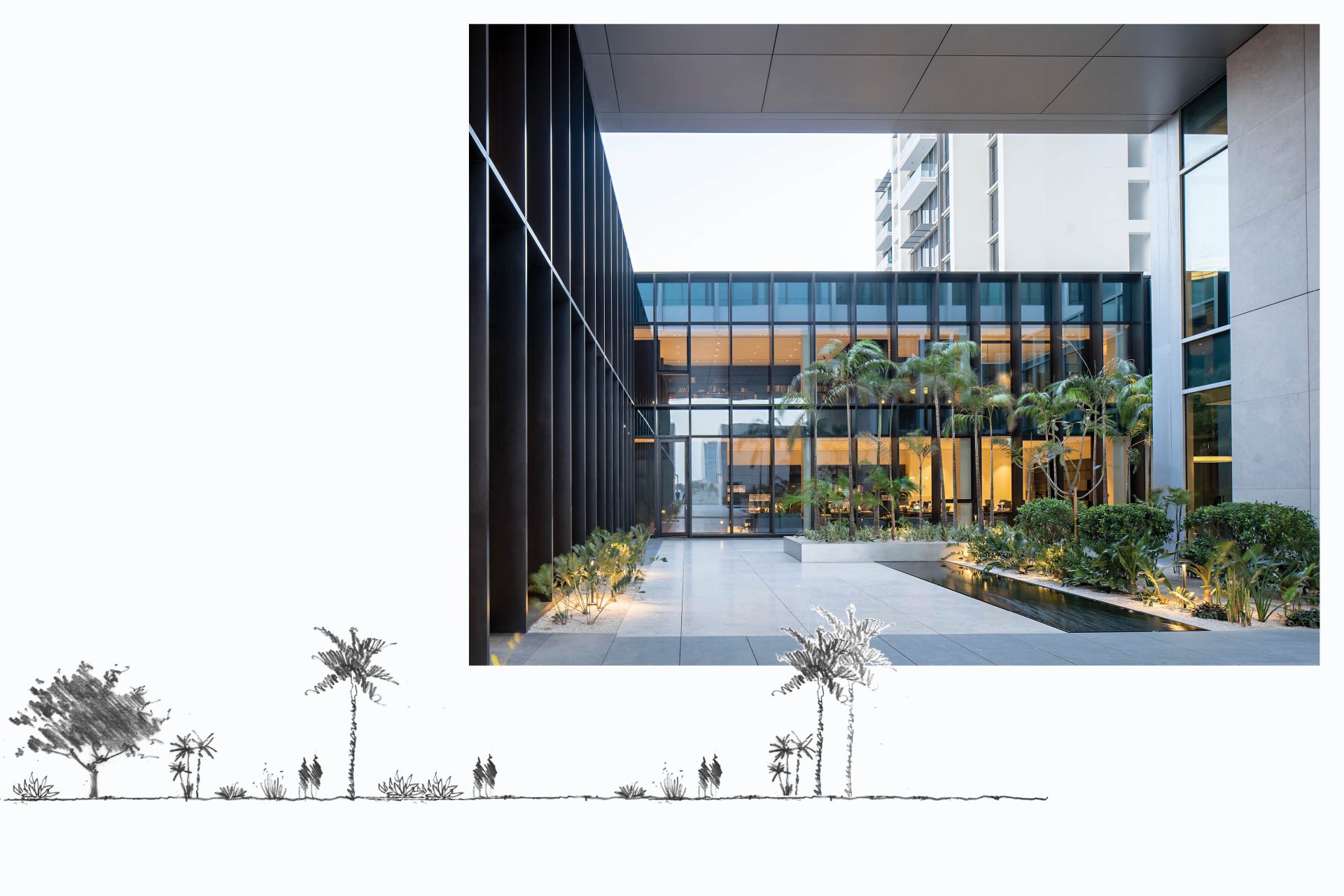 Precise alignments between the building and landscape features add to the strong sense of order for this design coalescing structure with landscape. Occupiable small and large-scale courtyard spaces offer respite and comfort, a quiet counterpart to the chaotic SZR. With multiple spaces of different character, visitors can choose to relax in sunny or shaded areas between shopping.
A modestly elevated plinth over a reflecting pool in the main courtyard, operates as a prominent outdoor area that is slightly set apart creating dinning and gathering space. The tree-studded plinth appears to overhang the ground level reflection pool.
Courtyard shade trees help hold water vapor from the reflection pool creating a microclimate to make shopping more comfortable under the midday dessert sun. A water wall positioned as a terminus at one end of a long view in the eastern courtyard helps add a calming white noise to the more intimate space. Small leaved lower plants and draping palm fronds also help buffer sound and conversation from the larger more communal spaces. These sensory focused elements add experiential depth that impact the feel of this design.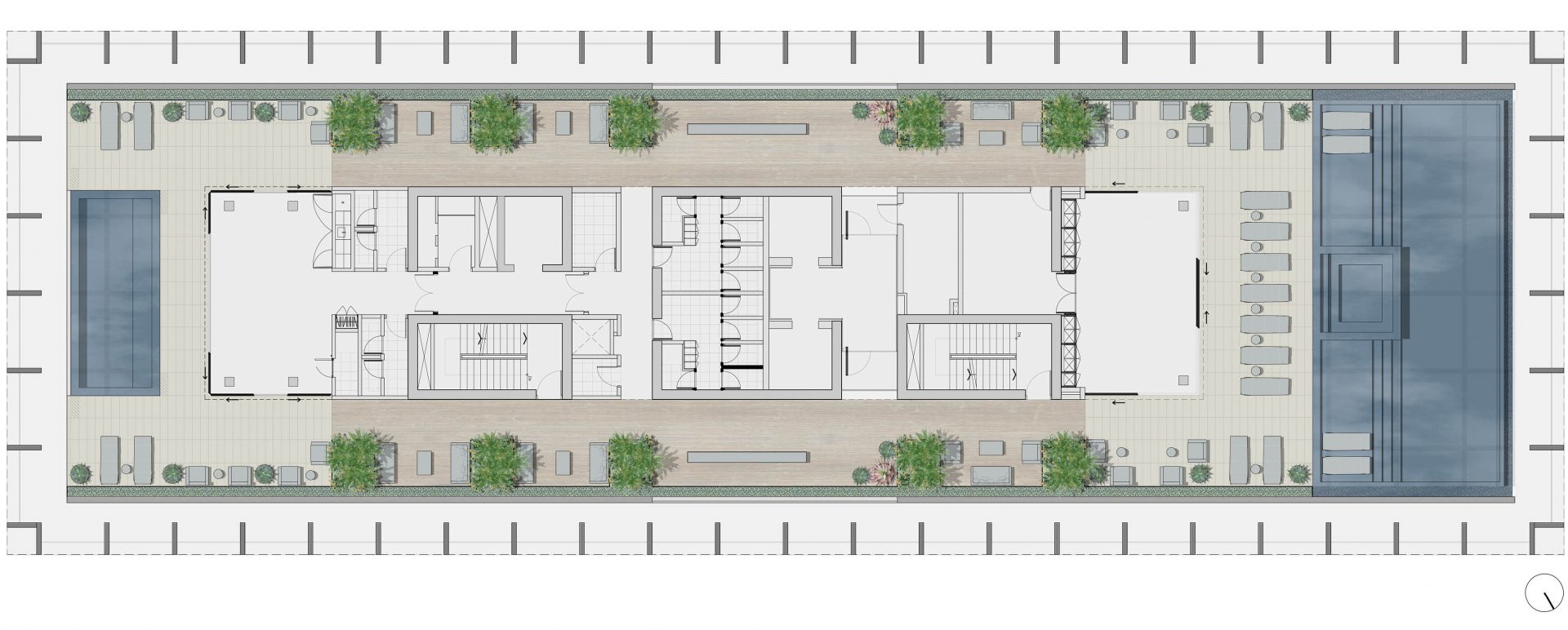 Rendered plan (Roof Level)
Rendered plan (Roof Level)
This streamlined space reflects the simplicity of the architecture, creating a luxury oasis in the sky. The waterline of the zero edge infinity pool connects to the horizon, bringing sense of weightlessness to the adult space. A second pool for children connects to the childcare services. The facade fins help protect the deck from high winds and intermittent sandstorms, while framing views out to the city beyond.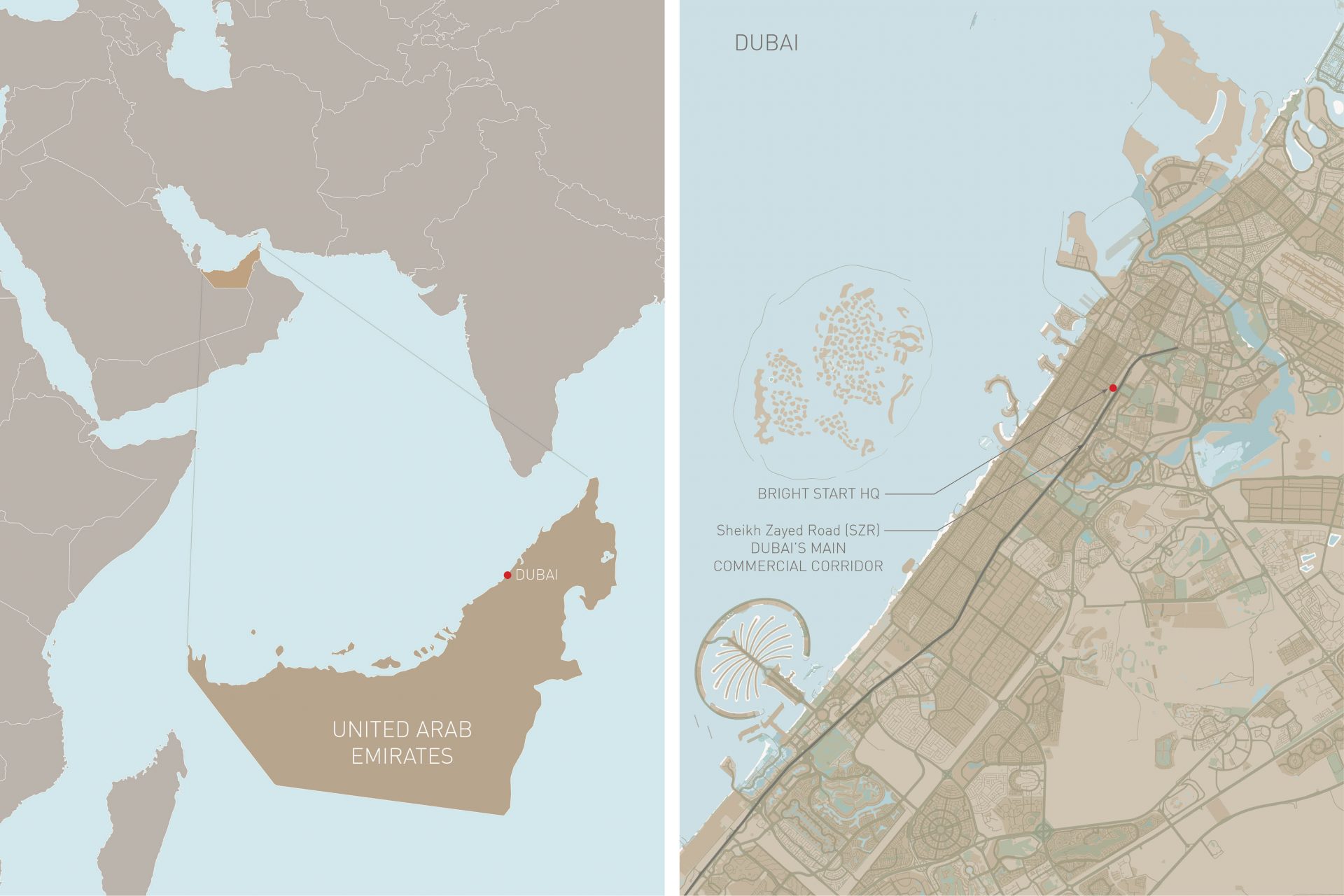 Geographic location
Geographic location