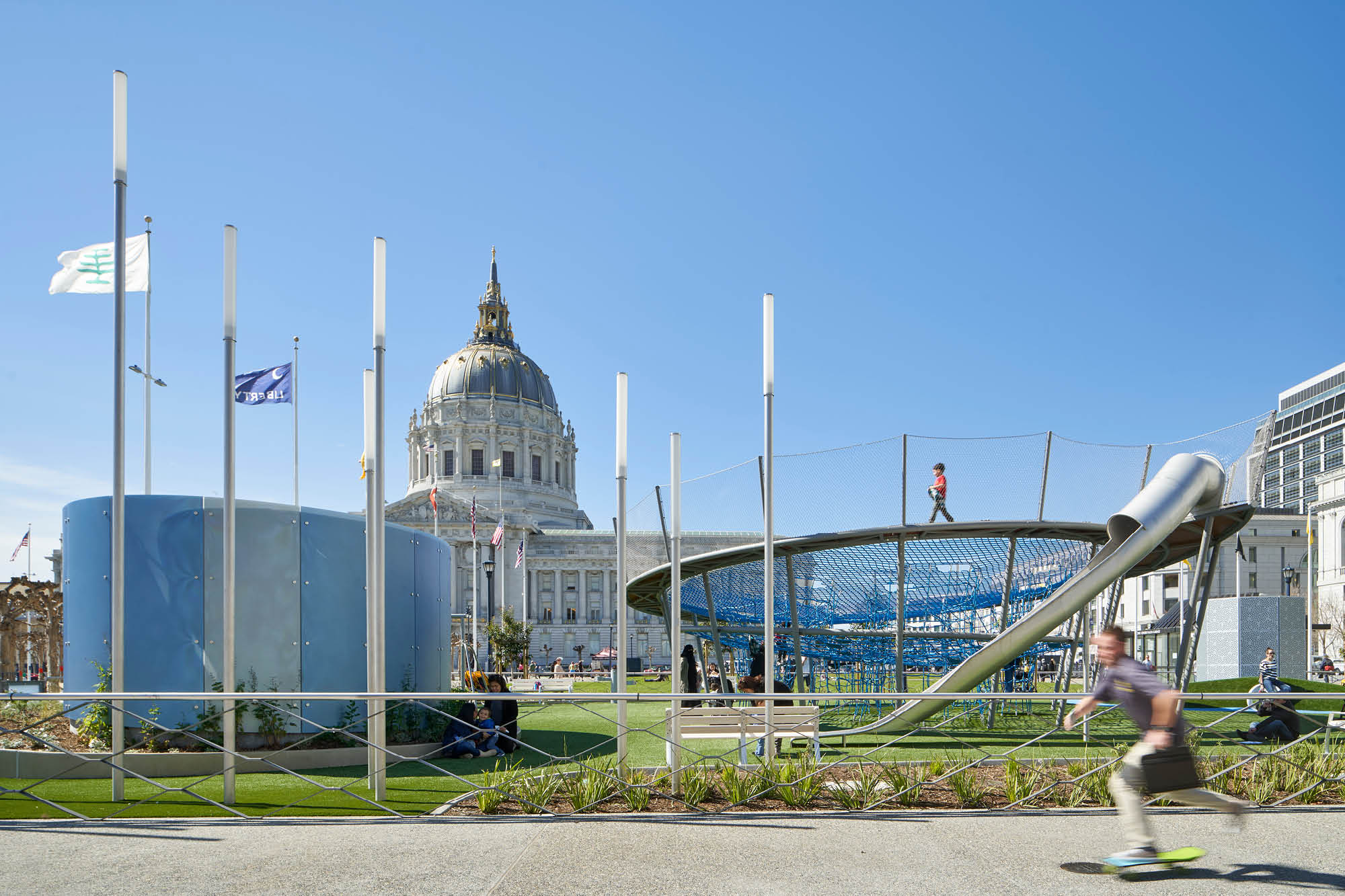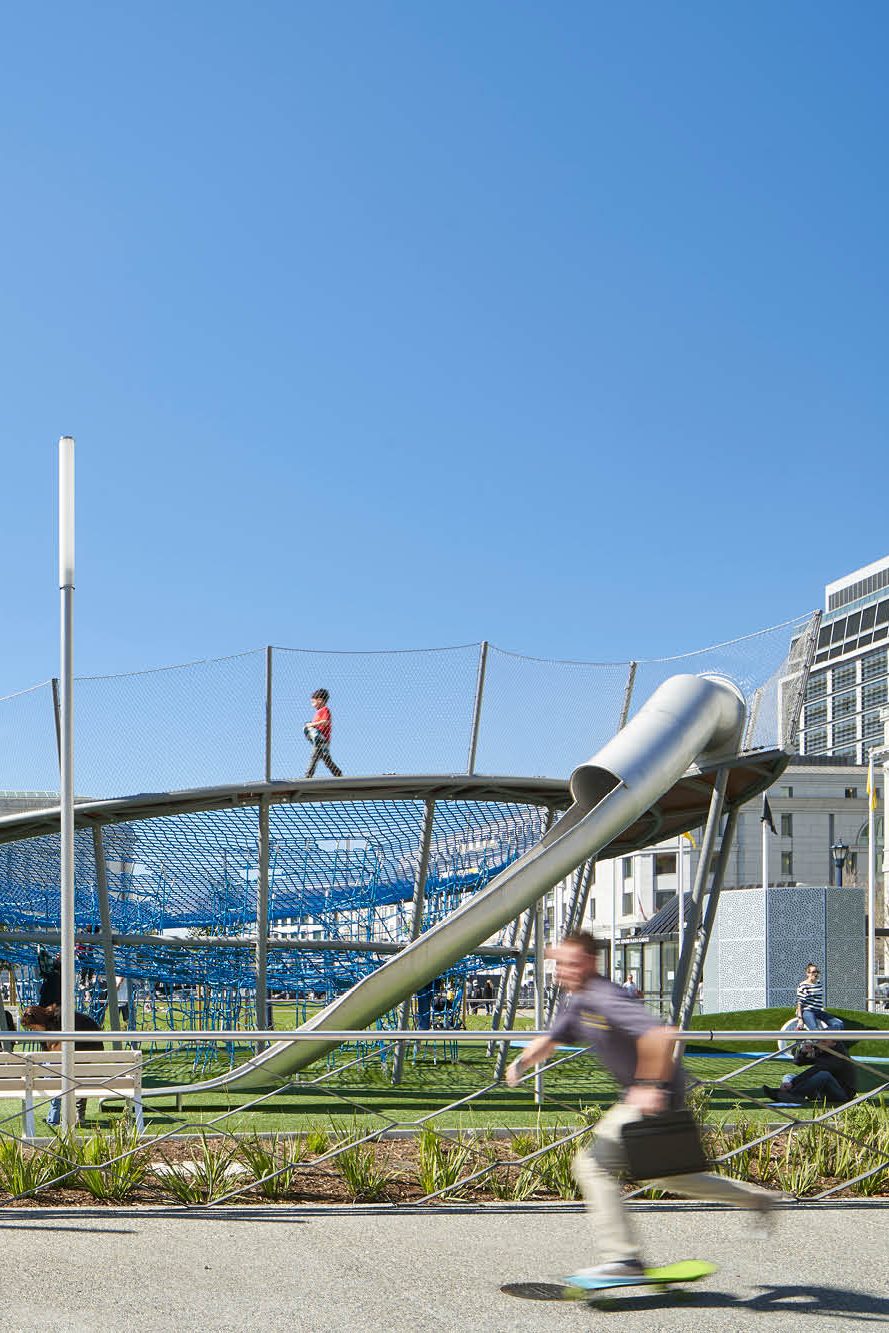 Transforming the heart of the city
Helen Diller Civic Center Playgrounds
Within San Francisco's Civic Center Plaza, ACLA designed two playgrounds that look onto City Hall. This close collaboration with The Trust for Public Land and the Recreation and Parks Department has resulted in an inviting and safe place for families to play within a densely populated neighborhood and helped catalyze change in a challenged urban area. Unique and artful, the playgrounds are an interpreted reflection of the movement of fog across San Francisco.
Swooping and durable steel members spiral and twist while stretching blue and silver nets across the playgrounds. Children climb through the cloud-like nets to reach platforms and slides that offer views across the plaza to City Hall, beyond.
On the largest structure, three layers of play nets are interconnected through punched funnels and ringed with a walkway, creating a secret hideaway in the sky, perfect for a game of tag.
The other large structure is an open helix, which uses a twisting pathway and connected net to form a continuously rising surface that is a fun, circuitous climb – and also a controlled fall height of less than two feet.
A forest of slender pixel poles line the main pedestrian corridor and eastern edge of the plaza and the 'Karl' interactive light piece activates the adjoining space between the playgrounds. Both designed in collaboration with Anti-Clockwise Arts, the interactive and pulsing lights create a living ambiance that carries the project through the night and provides the plaza with additional illumination.
The new playgrounds now have a dual identity—an iconic space to draw tourists and large school groups and daycares, but also a daily play space for individual families to enjoy.
"

SF Civic Center is now cleaner and safer —a place to play and have a bite. . . Civic Center's progress so far could be a model for future efforts to reanimate run-down city corridors.
October 23, 2018 SF Chronicle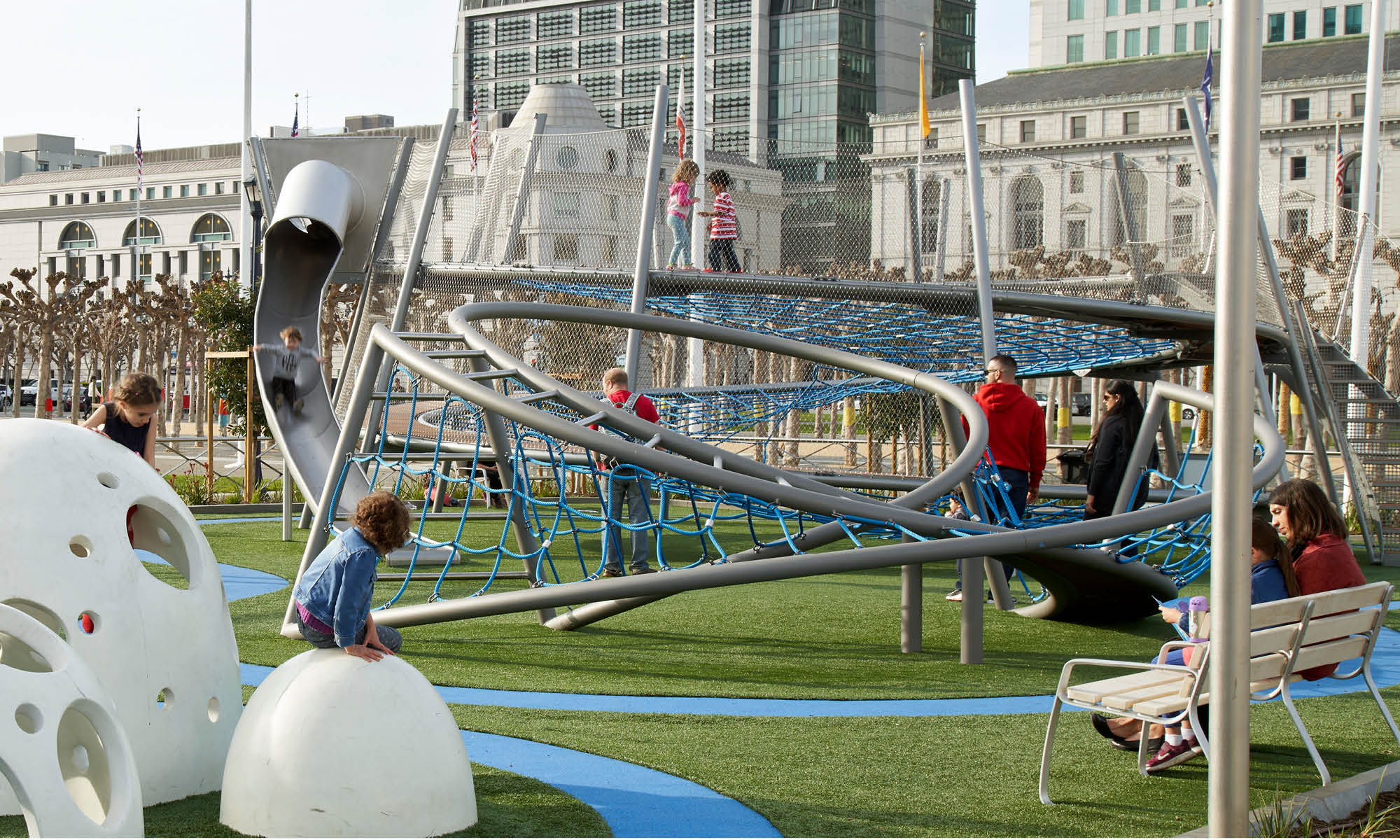 The Helen Diller Family Foundation's commission and a collaborative process with The Trust for Public Land and the San Francisco Recreation and Parks Department has encouraged interagency coordination and community participation for this challenging area.
The original goal for the playgrounds was to create an inspiring, fun and safe place for families. Their role has grown to serve as a catalyst for the regeneration for the surrounding neighborhood.